Ponds are a beautiful addition to any property. The relaxing sound of running water, the sunlight glinting off of the water, and the colorful plants in and around the pond create an incredible sight.
But, backyard ponds require maintenance to keep them clean, clear, and beautiful. Without maintenance, they can become an eyesore. Thankfully, there are a number of great products on the market that can help make cleaning your pond a breeze.
In this post, we'll take a look at some of the best pond cleaning supplies for 2022 and give you a rundown of what each one can do for your pond. So if you're ready to get started, keep reading!
Algae Control
When it comes to algae control, there are several pond cleaning supplies you can use. Algae control is different from algaecides in that it's more preventative. A lot of these methods are natural ways to remove algae from ponds.
You can help prevent algae buildup by installing more biological filters, an aerator, and aquatic plants. Fish are great for algae control because they eat algae, meaning you're cleaning your pond and feeding your fish at the same time. Some people also buy bundles of barley straw, which breaks down and creates hydrogen peroxide, but in a fish and plant safe amount.
You can also add rocks and gravel to the bottom of your pond if you don't already have any. They provide a home for beneficial bacteria to do their job.
We recommend installing an IonGen. Find out more about this algae control device in the video below:
Pond Vacuum
The best overall vacuum cleaner for ponds is the Oase Pondovac Classic 602401853010.
It has a powerful suction feature, though this means it sucks up a lot of water. You may want to lower the water level before using it.
This vacuum is durable, has multiple nozzles, and has a decently sized tank that minimizes the number of times you have to empty it. If your pond has a liner bottom, then this vacuum is one of the best choices for keeping it clean of debris.
An ecosystem pond may isn't vacuum friendly. We don't recommend using this method for ecosystem ponds because they come with rocks and gravel on the bottom. The vacuum will suck these up along with the beneficial bacteria that live on the rocks.
Pond Nets And Netting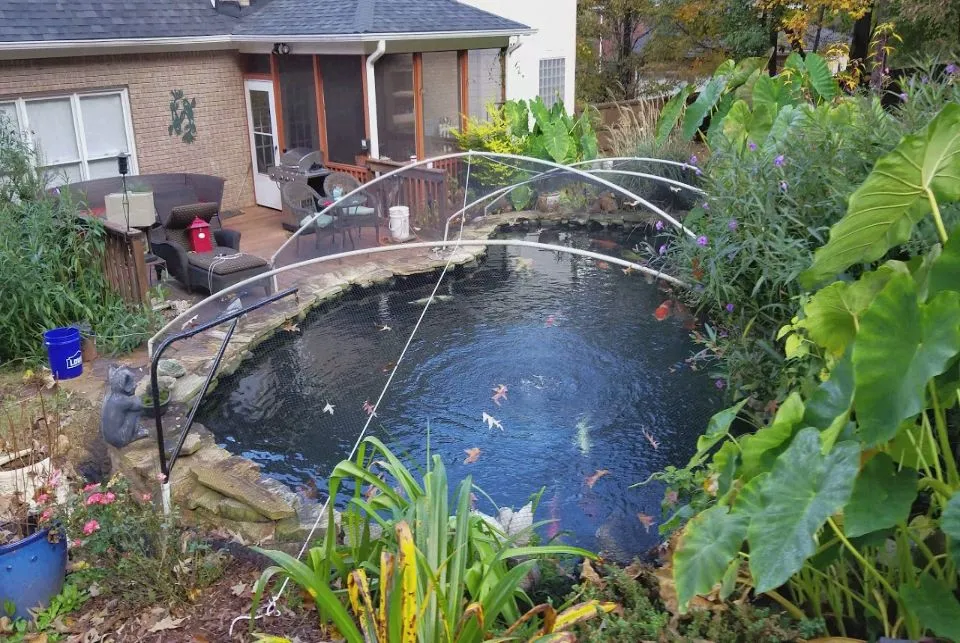 Pond cleaning supplies include various types of pond nets.
The Danner Skimmer Pond Net is very effective when it comes to cleaning algae and debris from the water's surface. The 6-and-a-half-foot extendable pole makes reaching the middle easier, the shallow basket doesn't disturb the water much, and the netting is made from fish-safe nylon.
PatioGem Pond Netting is fantastic when it comes to covering your entire pond. This is mostly for use during the fall when leaves fall more thickly, which can fill up your pond and filters. More leaves also mean more organic material breaking down in your pond, creating muck and a more algae-friendly environment.
You can also use the Pond Boss PSWP Pump Barrier Bag to protect your pond pump. This mesh bag fits around your pump to prevent damaging debris from getting into the pump. It lowers the amount of maintenance your pond pump will need and extends its life.
Biological Filter Media
The top pick for pond cleaning tools in this category is the Oase BioSmart Koi Filter.
It's great for ponds between 5,000 and 10,000 gallons. While it offers important biological filtration, it also adds mechanical filtration. You'll find this filter is easy to clean and does a great job cleaning due to having multiple zone filters. However, you may want to have a professional install it as the installation instructions aren't very clear.
But, for pond cleaning supplies like this one, this is the best overall pick.
Skimmers
The overall best skimmer is the Atlantic Water Gardens Pond Skimmer Box.
This skimmer is durable, easy to clean, and efficient at picking up debris. It also has an extra layer of sponge filter media, which helps catch smaller debris and adds biological filtration.
The heavy-duty lid comes with a steel bar support. This is great because it means you can disguise it with a rock so your pond looks more natural. It can also handle the occasional foot traffic.
UV Pond Clarifiers
The TetraPond GreenFree UV Clarifier is a great choice when it comes to pond cleaning supplies that fall into the UV area.
It's a heavy-duty unit that can clean the algae from a pond in 5 days, though it's green water algae and not string algae. This UV clarifier works best with ponds that have between 660 and 8,800 gallons of water in them. You'll need to choose the correct UV strength, which varies depending on the size of your pond.
Important: This pond cleaner is NOT submersible and MUST be kept above water.
Algaecides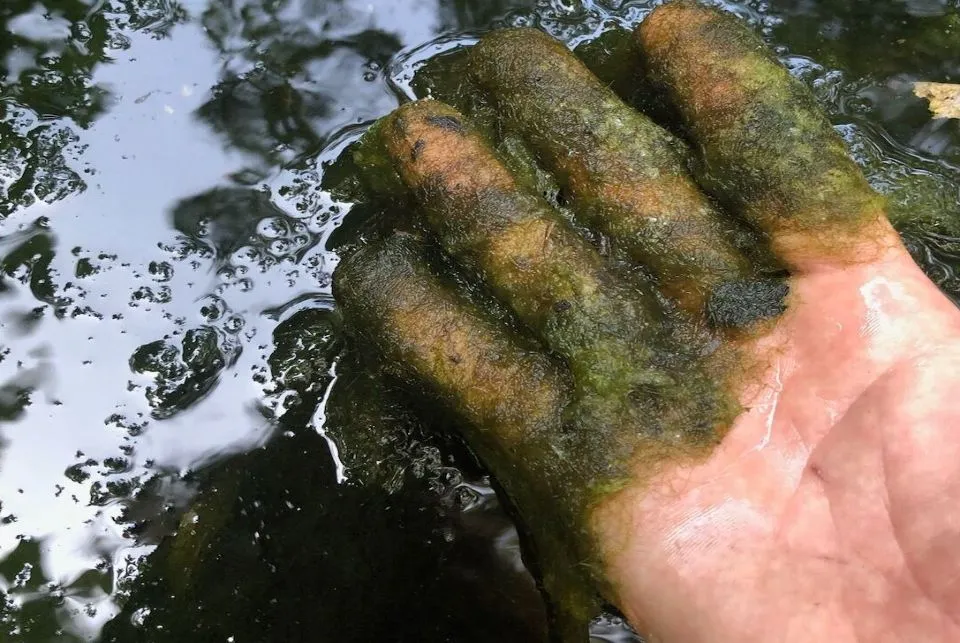 API Pond Algaefix is the best overall algaecide product for backyard ponds.
It's safe for fish and plants, making it one of the best pond cleaning supplies when it comes to algae. While this is the case, it's still chemical-based, so be sure to use the right amount for your pond. Too much of anything can be bad for the living organisms in your pond.
Herbicides
Sanco Industries Herbicide is the way to go if you need to kill weeds, grasses, and other plants you don't want in or around your pond.
Firstly, it's safe for living organisms, including fish, plants, and people. It's also quite easy to use. The only drawback is that it takes time to work, but it's still one of the best pond herbicides on the market.
Midsouth Ponds Can Clean Your Pond Back To Beautiful!
The most tried and true way to make sure your pond stays clean and clear is to have seasonal cleanings or at least clean it twice per year. Cleanings will remove nasty muck, debris, algae, and more. Whoever cleans your pond needs to know the proper way to clean a pond and should also make sure the equipment still works well and isn't breaking down.
But, it's still recommended to take your own steps to keep your pond clean and beautiful. This way, it stays looking its best all year round.
Cleaning your own pond is a time-consuming, labor-intensive, and messy process. Most pond owners don't want to do it themselves when they find out how to clean a pond. If this is the case, you can always fill out our contact form so we can discuss how to best care for your pond.