Although swimming pools are nice to have, many modern homeowners are opting for another type of water-based source of relaxation and enjoyment. These are known as home pond installations, and they bring many of the same features that you love about lakes, rivers, or streams right to your front or back yard. At Midsouth Ponds, we have extensive experience installing, designing, maintaining, and repairing home ponds while helping homeowners find the best pond aerator available.
The ongoing and growing popularity of home ponds is a testament to the enjoyment and relaxation they can bring to your property. However, these creative installations require adequate maintenance to keep them in pristine condition. Regular professional cleaning and water quality control are key maintenance steps.
If you, like many other homeowners, have fish in your pond, then you will need to make sure that it is properly oxygenated. This is where an aerator kit for ponds comes into the picture.
There are many kinds of pond aerators on the market, and naturally, some perform better than others. As a result, it can be challenging to find the right aerator system. This guide will help you to make the best decision when you choose your next aerator for your beautiful home pond.
If You Have a Pond, You Need an Aerator
Why do you need aerators? Every home pond has a certain amount of oxygen that dissolves in its water. If you have any aquatic plants, they interact with sunlight during the day and create oxygen with the photosynthetic process.
Overnight, oxygen levels drop. To support fish or other wildlife in your home pond, you'll need to replace the dissolved oxygen in the water on-demand.
Aerators are an effective solution. They can add to the efforts of natural photosynthesis during the day. At night, aerator pumps can pick up where the plants leave off and continue oxygenating your pond until daybreak.
How Aerators Work
How does the best pond aerator work? Aerators work by exposing more water surface area to air or more air to water. The basic types of aerators are diffusers and fountains.
Fountain
Fountain-style aerators work by exposing more water to the outside air. These aerators have several components, including intakes, impellers, and spray heads. The impeller pulls water from the pond through the intakes and out the spray heads.
These style aerators produce a fine spray of water that they eject into the air through a fountain-like top. This action exposes more water from the pond to the atmosphere than would otherwise be the case. In this process, the levels of dissolved oxygen in the water rise.
Diffusers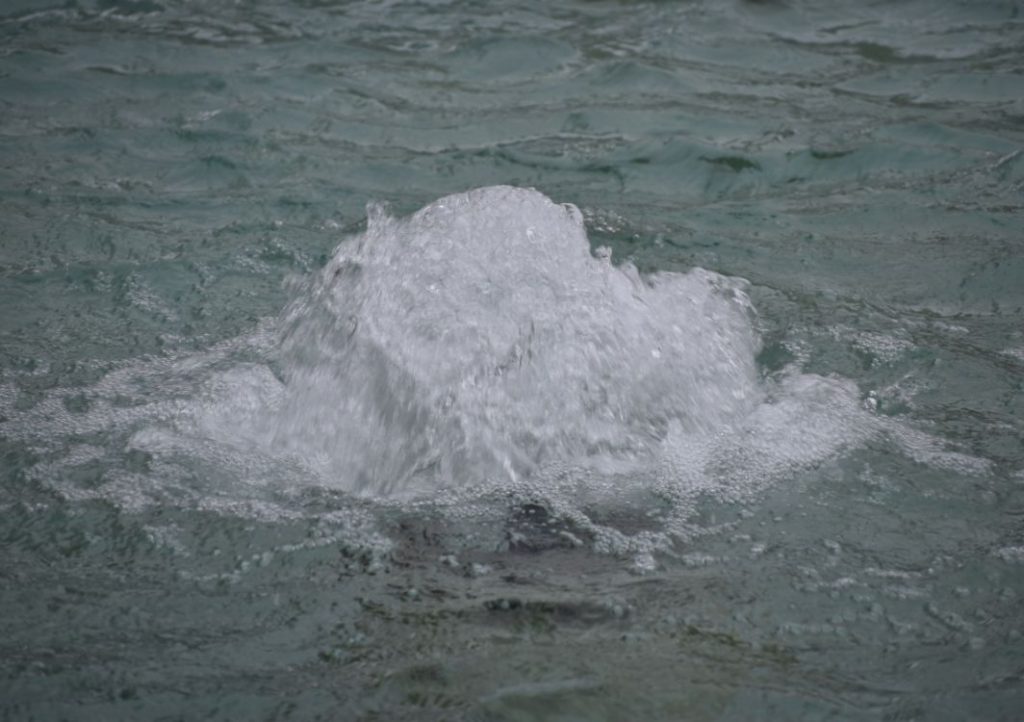 The other major type of aerator works by exposing more air to water. These are diffusers, and they work by taking outside air, turning it into small bubbles, and pumping these bubbles into the pond water. During the process, the small, diffuse air bubbles increase the oxygen saturation level in the water.
Since they must pump the air bubbles into the water from below, diffusion-style aerators tend to be submersible. Both fountain spray and submerged diffusion-style aerators work by circulating water through the units and around the pond. This self-circulating action helps to keep oxygen levels consistent and keeps layers of water in the pond from stratifying.
This process provides a constant turnover of the water at different depths in the pond and increases the overall health of your home's pond.
High Performing Pond Aerators
Now that you know more about aerators and their functions, you can peruse this list of high-performing units. These models come with several valuable features. To get the most out of these systems , you can carefully match the elements of your pond with the capabilities of the aeration unit that you choose.
Aquascape Pro Aeration Kit
This powerful unit can aerate 5000 gallons of water in regular mode and up to 15,000 gallons in extended mode. It is submersible up to 11.5 feet, allowing it to deliver diffused air deep under the surface. In addition, its weather-resistant durability allows you to use it efficiently all year long.
Rootscape Large Pond Aerator
This is another powerful air diffusing aeration unit. Its chassis includes weights that keep it on the bottom of the pond at all times. Its powerful motor and delivery system allow it to aerate up to 20,000 gallons of water successfully. It also includes a bubbling option that circulates water to prevent stratification.
Airmax Pond Air 2 Kit
This diminutive but talented aerator is ideal for small ponds. Even though it only tips the scales at one pound, it can still aerate up to 1,000 gallons of water.
It's also submersible and capable of operating in up to two feet of water. It is high on the efficiency list at 4 watts of electrical draw. It also includes a bubbler that circulates the water in your pond.
Air Pro Deluxe
This specialized aerator is best for large ponds This is the way to go for those of you with acre-sized ponds. Not only can it efficiently aerate large bodies of water, but it can also operate while submerged 50 feet under the surface.
iYeHo Solar Water Aerator
This aerator is a capable solar-powered unit with a two-hour battery backup for dusk hours. Even though it is small, it has a continuous service option that allows it to do a surprising amount of work. It's also highly energy-efficient, easy on the environment, and operates quietly.
Contact Midsouth Ponds Today!
Midsouth Ponds in Memphis, TN, proudly serves the community with exceptional customer service and professional expertise. Our dedication to customer satisfaction is one of the many reasons why our Memphis customers continue to request our services and recommend us to their friends.
We know how challenging it can be to navigate the various pond aerator options. We can help you find the best pond aerator based on the size of your pond and specific needs.
Contact Midsouth Ponds by filling out our contact form today!