Installing a swimming pond in your backyard can be a great way to get some summertime relief from the heat. It's a truly beautiful and unique addition to any home. One of the most common questions we get is 'how much does a swimming pond cost?'
In this blog post, we'll take a look at how much it currently costs to build and maintain a swimming pond. You'll also find out the main factors that can cause the cost to rise or fall. Keep reading for more!
How Much Does A Swimming Pond Cost To Install?
The cost for a true swimming pond can range from about $65,000 to $250,000 and higher. Smaller swim ponds cost an average of $70,000. The average size swimming pond has an average cost of about $90,000. Larger swim ponds typically have an average cost of around $125,000. There are many factors within your control that will raise or lower these costs.
*These costs are national averages and will change based on several factors.
Smaller Swimming Pond Costs
A smaller swimming pond that is about 10 feet by 15 feet can cost between $65,000 and $75,000 without any additions.
Average Swimming Pond Costs
The average size swimming pond of about 15 feet by 30 feet can cost from about $80,000 to $100,000 without any additions.
Larger Swimming Pond Costs
Larger swim ponds that are about 25 feet by 40 feet can range in cost from $110,000 to $140,000 without any additions.
The Cost To Maintain A Swimming Pond
Swimming pond maintenance costs are similar to that of normal backyard pond maintenance costs. The price can range from as low as $450 to as high as $5,000. We recommend doing a full pond cleaning for spring, fall, and winter, with a less elaborate cleaning during the summer. This helps make sure your swim pond keeps looking clean and incredible. It also gives contractors the chance to look at the plumbing and filters to make sure they keep operating as well as they need to.
What Can Change The Cost For A Swimming Pond?
The cost to build a swimming pond and maintain it will change based on the below factors. It's good to keep in mind that the process of building a pond is complex and often lengthy.
Size
When it comes to size, the majority of the cost is typically labor. Digging out and lining a swimming pond is quite labor-intensive. Larger ones take more effort and time to dig, while smaller ones take much less of both.
The size of your swim pond also determines the amount of filtration and aeration it needs to stay clean and clear. Larger ones need more filters and aerators, which increases the cost.
Cleaning larger ponds will cost more as well. There's just more to do labor-wise, and it's more time-consuming.
Depth
The depth of your swim pond also affects the cost in much the same way sizing does. Deeper ponds cost more because it adds to the labor, time, and materials it takes to construct one.
Artificial vs Naturalistic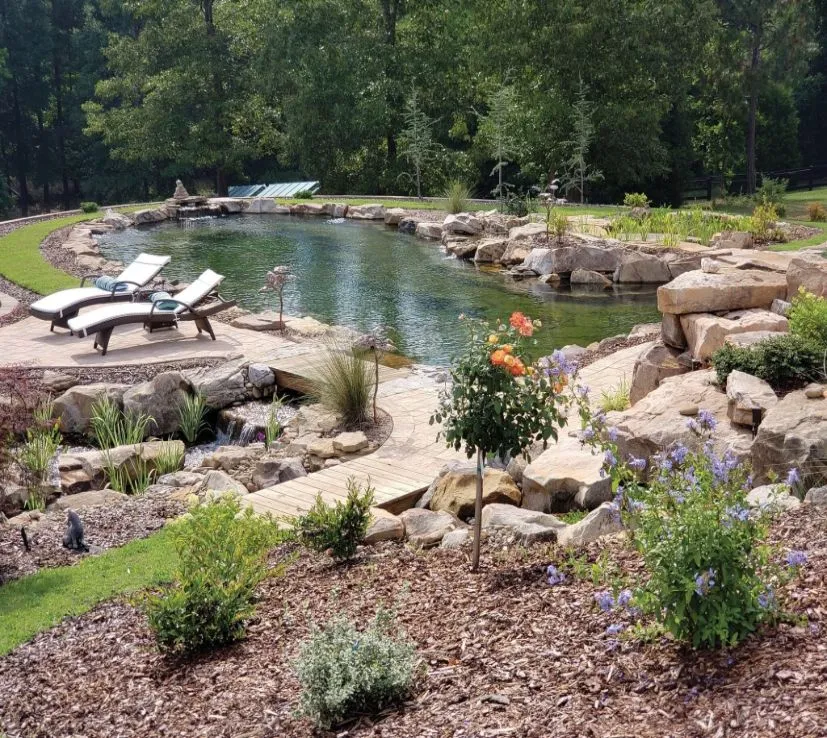 Some pond contractors make swimming ponds that have their own ecosystem. Waterfalls provide a relaxing sound, aeration, and filtration. They line the bottom and sides with smooth rocks that make your swim pond look more natural. These rocks also provide a home for beneficial bacteria that only help keep your water cleaner and clearer. This swim pond style costs more, but it looks infinitely more attractive.
Other contractors don't put a lot of effort into making your swimming pond look more natural. They leave the bottom as just the black liner, and it looks more like a pool with plants and rocks around it instead of a concrete deck. While this is the cheaper option, it's also the less beautiful one.
Shape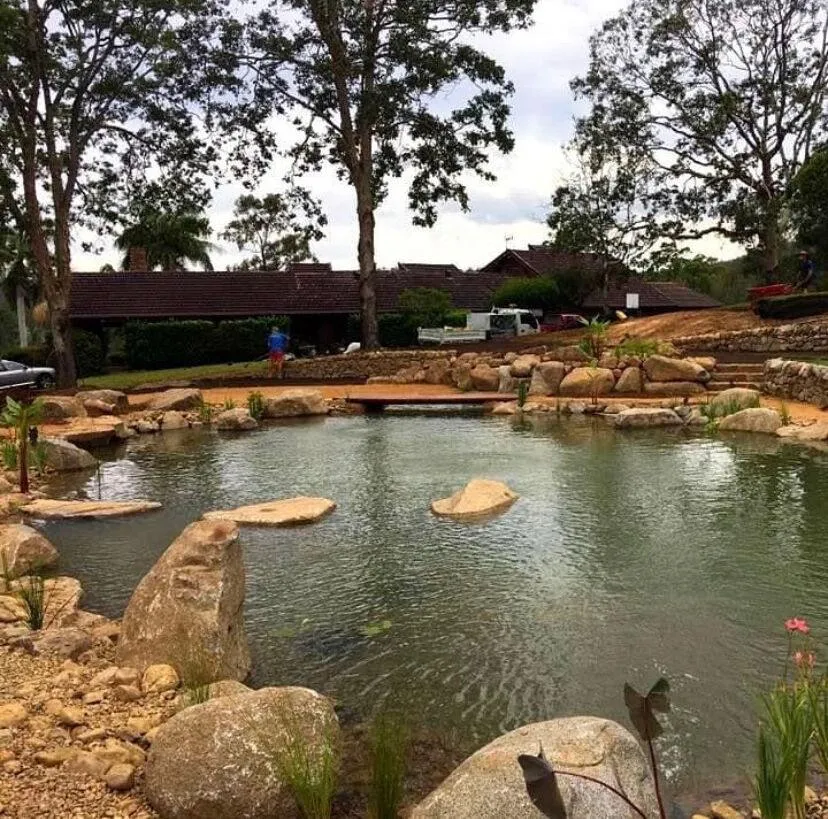 Basic shapes like rectangles and circles are much easier and cheaper to construct than custom and freeform shapes. The custom shapes are harder to excavate, and contractors have to consider how the design will affect other aspects of the pond.
Additions
There are so many amazing additions you can add to your swim pond! They can make it more fun or easier to maintain, which for most people is worth the extra cost.
A few swim pond additions include:
Underwater LED lights that change colors
Hidden waterfall
More filters
A deck or patio
Beach front entrance
Who You Hire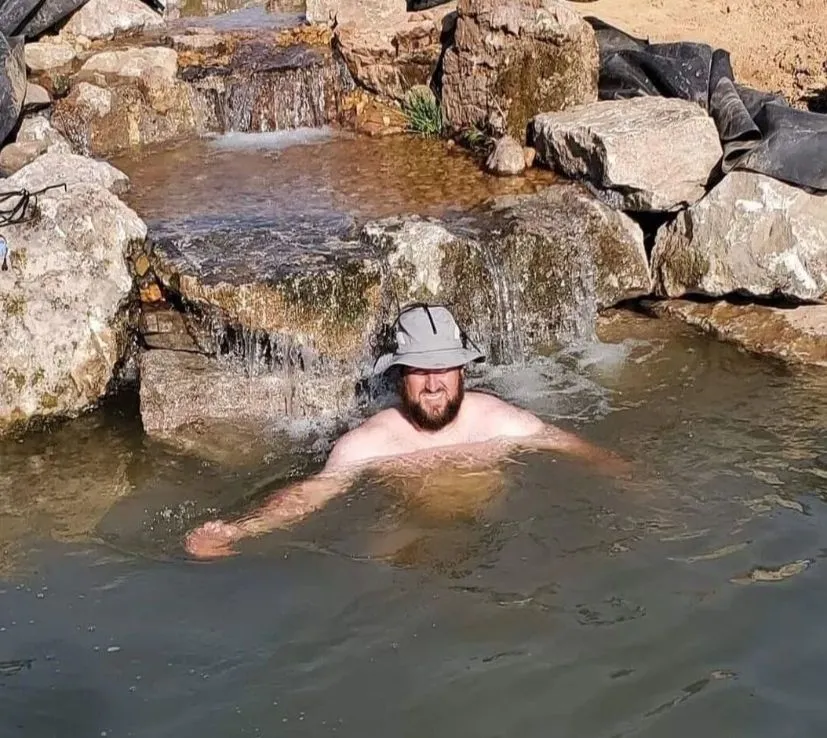 The contractor you choose to hire will impact your cost and your experience.
General contractors can agree to build a swimming pond and will usually do it cheaper than a professional pond contractor. However, we've seen it many times where a general contractor tries to build a swimming pond, realizes they are in over their head, and then quits not even halfway through. They may not even refund you the money you spent. Then you have to spend even more hiring someone else.
We recommend only hiring someone to build a swimming/recreational pond (or natural swimming pool.) They have the knowledge and experience to build you one you'll love for years.
Fish
You can swim with your own fish! Adding fish to a natural swimming pond is a fun and viable option.
More natural swim ponds (built like an ecosystem backyard pond) can more easily support fish. They feed fish and filter their waste because they act more like an actual pond that supports fish.
You will want to add more filters to help keep the water clean and clear, which increases the cost.
Get The Swimming Pond Of Your Dreams With Midsouth Ponds
Installing a swimming pond is no small nor easy task. It takes an incredible amount of knowledge and experience to create one that looks beautiful and operates smoothly.
Midsouth Ponds has the knowledge and experience to build your ideal swimming pond. Fill out our contact form today so we can start discussing your swimming pond project!