Home-based water gardens are increasingly popular. Given the many benefits water gardens bring to property values, curb appeal, and peace of mind, this admiration is understandable. An especially popular type of water garden is called a Koi pond.
Since the pond holds living creatures, it must have features that help to support life. These features include the all-important Koi pond pump. If you choose the right fish pond pump, you can enjoy your Koi pond for years to come.
At Midsouth Ponds, we are experts in the design, installation, repair, and maintenance of a wide variety of home water features. In addition to ponds, waterfalls, and streams, we can also help you construct the Koi pond of your dream. That said, there is a lot that goes into properly designing and installing a fish pond.
Choose the wrong one, however, and your fish, your pond, and your investment may suffer a bit. The good news is that Midsouth Ponds is on a mission to educate you about the best types of pond pumps for your specific needs. Some things to consider include the type of pump, pump capabilities, cleaning methods, and pond capacities.
Main Koi Pond and Water Pump Types
When the time comes for you to purchase a pump for your Koi pond, you'll find that they come in two main varieties. These two Koi pond water pump types include submersible and external. Both pump styles have their benefits and drawbacks, but it will ultimately be up to you to choose the style that best fits your needs.
External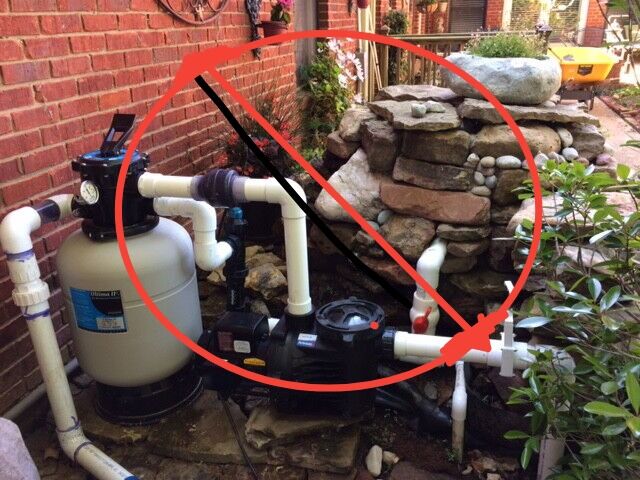 External pond pumps, as their name suggests, do their work outside of the water. Depending on how much electrical line and hose you have, you can place these pumps relatively far away from your home water garden.
This feature does have some advantages, however, we don't usually recommend it because these types of pumps are typically designed for pools.
By placing your pump far away and out of sight of the pond, you can maintain peace, tranquility, and a natural look for your yard.
Submersible
The other major Koi pond pump style is called the submersible version. From its name, it is easy to tell that engineers designed this type of pump for use beneath the surface of your home water installation. Submersible pumps usually lie in either the deepest part of your pond (if you've built the pond yourself) or in the skimmer unit if done professionally. As you can guess from this vantage point, they work well and are kept out of sight.
Submersible pumps include shielded and voltage-protected power lines that pose little or no danger to the health of your fish or yourself.
These are the types of pumps that we install here at Midsouth Ponds, by the way!
Koi Pond Cleaning Considerations
In addition to your pumping needs, you'll also need to consider cleaning responsibilities. Koi aren't the largest of fish, but they can grow to relatively decent sizes. Many Koi grow to between 18 and 24 inches long, with the largest capable of reaching three feet in length.
Moreover, most Koi ponds harbor a lot of fish within their watery confines. Thus, these fish create waste day in and day out. To keep your fish and water quality healthy, you'll need to find ways to rid your pond of this waste and maintain high water quality.
Three popular technologies that achieve this goal include water filters, pond ionizers, and ultraviolet clarifiers.
Filters
Pond filtration technology is fairly straightforward. Filters usually match up with compatible pumps. If the filter or the pump is of the wrong size or power level, then damage to one or the other is almost inevitable.
Therefore, ensure that the filter you purchase for your pond pump fits the exact specifications. Koi ponds come in various water capacities. A small pond could be 500 gallons, while larger ones might be 5,000+.
You can put as much water in your Koi pond as you like. Just ensure that your pump and filtration system can clean that amount of water in a reasonable period.
Pond Ionizers
In addition to filters (which come standard in all the ponds we build), pond ionizers are another great option to filter the water. They do require a little bit of maintenance but typically prove to be a very effective way of keeping the pond water free of excess algae.
UV Clarifiers
Another major type of Koi pond cleaning technology is the UV clarifier. These are high-tech devices that use the disinfectant properties of UV light to kill potentially harmful microorganisms in your pond water. These lights are generally harmless to fish, so you can effectively target dangerous pathogens while leaving your fish happy.
Some Other Key Koi Pond Metrics
To get the most out of your next Koi pond pump, you'll need to address some important details. These include pumping capacity, circulation needs, tubing, and more. Additionally, one of the most important things you can do is accurately measure the water capacity of your Koi pond.
Capacity for a Large or Small Pond
You should have this information in hand before you even begin the final construction of your pond enclosure. Knowing the water capacity of your pond is essential for many reasons. Depending on the type of fish you have, you want to ensure that the pond water completely recirculates at least every one to two hours.
To meet this recirculation need, you'll need a Koi pond pump to deliver this type of fluid flow capacity. For example, if you have a 1,000-gallon Koi pond that needs to turn over once an hour, you'll need a pump with a 1,000-gallon per hour flow rate.
Lift Height and Tubing
In addition to flow rate, take careful note of the lift height capability of your proposed pump. The lift height is how far your pump can push water above the surface height of your pond. The higher this number is, the more capable your pump will be.
Keep an eye on the tubing length and diameter of your pump. This tubing size should fit the pumping capacity of your machine.
Too much tubing, and your pump will lag. Too little tubing and the pump will not deliver enough flow rate to satisfy pond needs.
As you can see, properly constructing and managing your very own Koi pond comes with many responsibilities. However, you don't need to face these tasks by yourself. At Midsouth Ponds, we're passionate about the maintenance, construction, and design of ponds and other home water features.
We have numerous satisfied customers who can attest to our commitment to quality, excellence, and customer needs. If you're looking for help with a pond project of your own or have questions about your pond pump, fill out a form on our contact page to get started!