Did you know that there are different types of ponds for backyards? If you're looking to install a pond in your backyard, it's important to choose the type that will look incredible and be easy to maintain. This is where people turn to ecosystem ponds.
If you're considering adding a pond to your backyard, an ecosystem pond is the best choice. Here's what you need to know about ecosystem ponds, from the underlayment and liner to the fish and plants.
What Is An Ecosystem Backyard Pond?
An ecosystem pond is a man-made body of water that looks and functions similarly to a natural pond. This makes it a lower-maintenance water feature because the ecosystem, along with other parts of the pond, works to keep itself clean and clear. An ecosystem pond is also designed to provide a habitat for fish, plants, and other aquatic creatures.
In addition to being a beautiful addition to your backyard, an ecosystem pond can also help improve the quality of the air and water in your area. 
Parts Of What Makes An Ecosystem Pond
Underlayment
The underlayment is the foundation of your ecosystem pond. It's the layer of protection between the liner and the ground. It acts as a cushion for the liner and helps protect it from punctures and other damage.
Pond Liner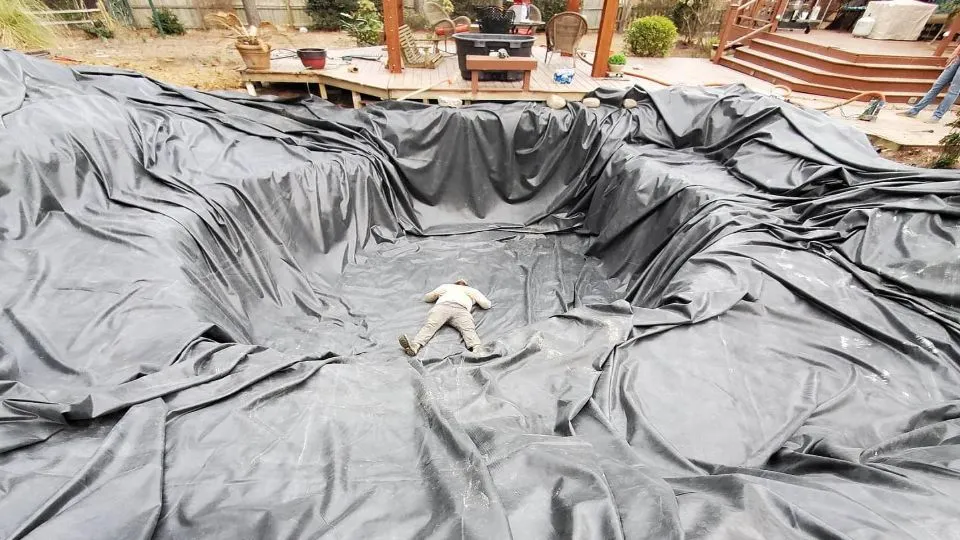 A liner is then placed over the underlayment. The liner creates a barrier between the soil and the water, preventing the water from leaking into your yard. Most pond contractors agree that a 45 mil EPDM liner that's fish safe is the best due to its flexibility and strength. EPDM is a great product for lining ponds as it keeps the water in the pond.
Pond Pump
The pump circulates the water in your ecosystem pond, keeping it fresh and oxygenated. It also provides filtration by running the water through the filters. Pumps also power any water features that you have in your pond, such as fountains or waterfall features.
You'll want to know how to choose the right pump so your pond operates smoothly.
Plumbing
The plumbing system includes PVC pipes and fittings that connect the pump to the individual components of your ecosystem pond.
Biological Filter (BioFalls)
The biological filter, sometimes called a BioFalls, is a chamber filled with gravel or stones that allows beneficial bacteria to grow. It breaks down toxins, fish waste, and other waste products in your ecosystem pond, keeping the water clean and clear. It does this through a process called aerobic decomposition. This is done with the help of beneficial bacteria that break down the waste into nitrates and other compounds that are used by plants as fertilizer.
Mechanical Filter (Skimmer)
The mechanical filter, or skimmer, is usually a box that's placed at one end of the pond, usually where water flows into it from a waterfall or fountain feature. It has a basket that catches leaves, twigs, and other debris from your ecosystem pond before they have a chance to decompose and release toxins into the water.
You, as a pond owner, will need to empty the basket once or twice per week, depending on the time of year and the location of your pond.
Fish
The fish in your ecosystem pond help keep the water clean by eating algae and waste products. They also add oxygen to the water through their gills. Common types of fish that are used in ecosystem ponds include koi and goldfish.
While they are fun to look at, adding fish to a pond adds responsibility. You'll need to make sure to closely follow the rules for how to care for koi fish, especially when it comes to what to feed them. But, feeding them and watching them swim around makes it worth any extra work.
Aquatic Plants
Aquatic plants play an important role in maintaining the balance of your ecosystem pond by absorbing excess nutrients from the water and oxygenating it. Pond plants also help to stabilize the shoreline, prevent erosion, and provide shelter and snacks for fish and other aquatic creatures.
Common aquatic plants include lotus, lilies, and irises. The different types of aquatic plants include bog, marginal, floating, emergent, and submerged. Each work best in different parts of the pond.
Rocks And Beneficial Bacteria
Rocks and gravel are important for ecosystem ponds. They make up the sides and they go on top of the liner, protecting it from damage. Non-ecosystem ponds just leave the liner.
Rocks make ponds look more natural and beautiful, and they also provide a home for beneficial bacteria to colonize. Beneficial bacteria help break down waste products in your ecosystem pond into nitrates and other compounds that can be used by plants as fertilizer. This process helps keep the water clean and clear. They also help to keep the water clean by consuming excess nutrients that would otherwise cause algae blooms.
You can purchase beneficial bacteria products at your local garden center or online. Be sure to follow the instructions carefully when adding them to your pond so that you do not disturb the delicate balance of your ecosystem.
The Other Main Types Of Backyard Ponds
There are three main types of backyard ponds: preformed, liner, and natural.
Preformed ponds are usually made of fiberglass or plastic and come in a variety of shapes and sizes. Most of these are DIY-able
Liner ponds involve dugouts that are lined with an impermeable material, such as rubber, to prevent leakage. Ecosystem ponds fall into this category
Natural ponds are created by damming a stream or spring that's already on the property
Each type of pond has its benefits and drawbacks, so it's important to choose the right one for your needs. For example, preformed ponds are easy to install but can be expensive, while liner ponds offer more flexibility in terms of size and shape but require more work to set up.
Ultimately, the best type of pond for your backyard will depend on your budget, available space, and personal preferences.
Get An Ecosystem Pond That'll Be The Talk Of Your Neighborhood With Midsouth Ponds
A low-maintenance ecosystem pond is not only a beautiful addition to any backyard—it's also beneficial for both people and nature! With minimal maintenance required, these beautiful ponds are perfect for anyone who wants to enjoy all the benefits of having a water feature without all the work that comes with it!
If you're considering adding a water feature to your property, an ecosystem pond should be at the top of your list! Fill out our contact form today so we can start planning yours.